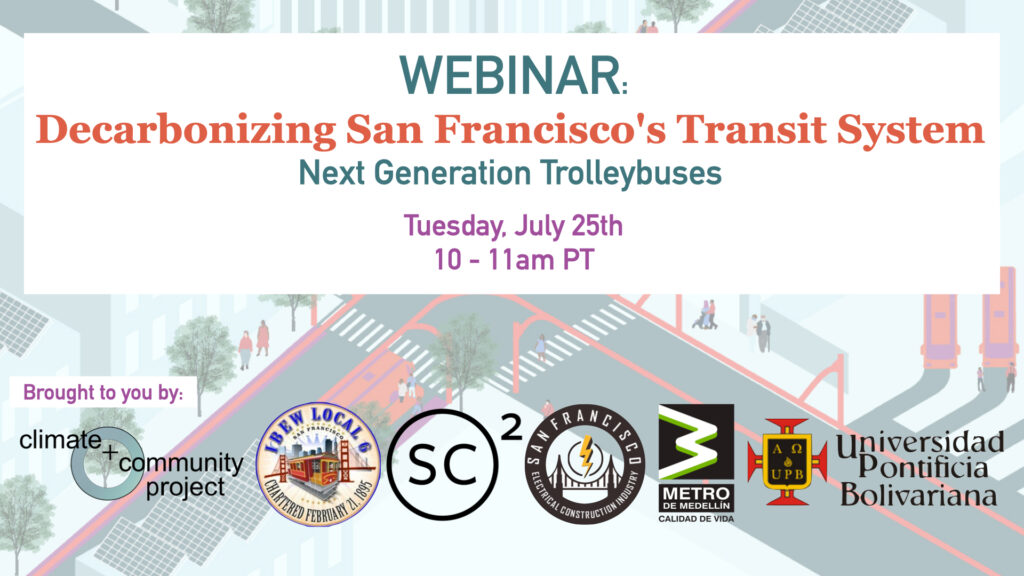 Tuesday, July 23, 2023 | 10:00am Pacific | Virtual | Registration Link
Hosts: Socio-Spatial Climate Collaborative or (SC)2 and Climate and Community Project.
Electrifying and expanding transit infrastructure will be crucial to meeting climate goals. In San Francisco, the city has operated electrified trolleybuses for over 85 years and this transit technology could be crucial to its decarbonization strategy. According to a new report, leveraging San Francisco's existing trolleybus infrastructure and updating it with next-generation In-Motion Charging (IMC) technology is the cheaper, more resource-efficient, and faster way to electrify and decarbonize its fleet in comparison to battery electric buses. Join labor union representatives, researchers, and advocates as they explore how cutting-edge trolleybus technology could play a central role in San Francisco's electrification goals, while providing stable service and good, union jobs. This study's implications go far beyond San Francisco. Beginning in 2029 100% of new purchases by California's transit agencies must be zero emissions with a goal for full transition by 2040, and cities across the world are considering employing next generation trolleybus systems in their own decarbonization plans.
Speakers:
John Doherty – International Brotherhood of Electrical Workers Local 6
Andres Emiro Diez Restrepo – Universidad Pontificía Bolivariana
Natalia Ortiz – Metro Medellín
Matt Haugen – Climate and Community Project
Martin Wright – Trolleybus Advocate